Kitsune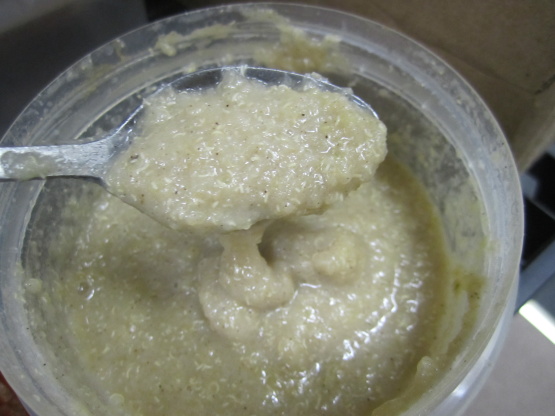 A popular breakfast beverage in South America, make this mixture at night and reheat in the morning. It's a thick, slightly sweet drink full of nutrients and protein from the quinoa. From the Whole Planet Foundation. I haven't tried this yet, so putting it here for safekeeping! It sounds good!

Very good flavor. I used unsweetened Almond Breeze instead of the soymilk. It was far too thick to drink easily; even ticker than the smoothies I make. It was more like a porridge. I will make it again but only use one apple, that might help with the drink-ability. Still, a delicious way to start the day.
Place quinoa and 2 cups water in a medium saucepan and bring to a boil. Reduce heat to low, cover and simmer 15 minutes or until quinoa is tender.
Drain well and return quinoa to saucepan.
Add soymilk, apples, sugar and cinnamon. Bring to a simmer over medium-high heat. Reduce heat to medium and simmer 5 minutes.
Transfer mixture to a blender, add vanilla and puree until smooth.
Serve hot.