Argentinean Empanadas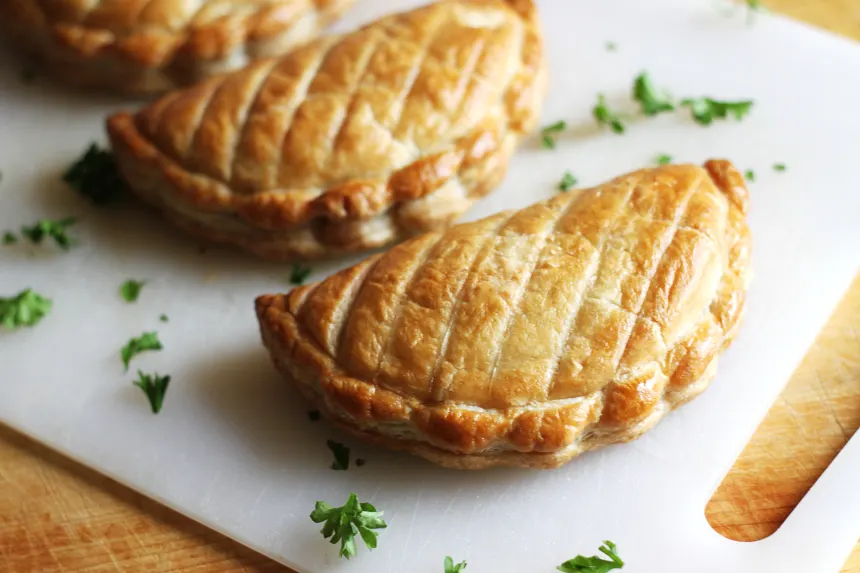 photo by Swirling F.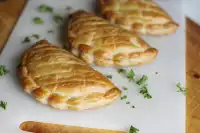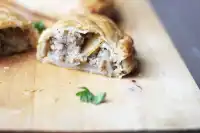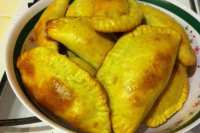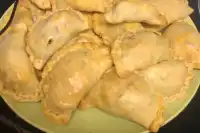 Ready In:

1hr 55mins

Ingredients:

15

Serves:

12-15
directions
Sift the flour, mix the sifted flour and salt in a large bowl.
Mix in the solid margarine or butter with your fingers, (best to cross cut with two knives). The flour should have an even, coarse texture, with the margarine lumps no larger than a pea.
Beat together the water, eggs, and vinegar in a bowl. Slowly mix into the flour mixture, until you have the desired consistency (it should not be too sticky, but still malleable).
Place the mixture on a floured surface. Knead with the heel of your hand to bring the dough together.
Cover the dough and allow to sit in a cool place for at least an hour.
Roll out the dough until it is about 1/8 of an inch (0.3 cm) thick. Cut into circles about 4-6 inches (10 - 15 cm) in diameter and lightly flour them.
Heat some oil in a large saucepan. Mince the onions and garlic, and add to the pan. Cook until the onions become translucent.
Add the ground meat. Break it up with with a spoon and cook, stirring until lightly browned. Drain off fat.
Mix in the cumin, pepper flakes, and sugar. Adjust to taste.
Chop the hard boiled eggs and halve the stuffed olives. Carefully mix into the meat mixture. Add salt and pepper to taste.
Preheat the oven to 375ºF/200ºC.
Stuff the empanada dough wrappers. Place 2-3 tablespoons of the filling in the center of each wrapper. Dampen the outer perimeter of the dough.
Fold over, forming a semicircle. Pinch a corner of the dough, and then fold that section onto itself. Pinch and pull out another 1/2-inch (1.2 cm) section and fold over, so that it slightly overlaps the first piece. Repeat along the length of the folded side, until you create a braided or twisted seal.
If desired, brush the tops of the empanadas with beaten egg yolk for a nice golden color.
Place the folded empanadas on a greased cookie sheet. Bake 15-20 minutes, or until golden brown.
Reviews
I made this last night and WOW - my mother is from Argentina and this reminded me of my grandmothers empanadas! ( we used the rasins so when I seen this recipe I thought spot on! ) the only thing different is I needed to cook mine about 22-24 mins as maybe my over is a little different but you can use good judgment and keep checking them until they are the golden color you want. ALSO you can use a fork to help you fold and pinch the empanadas shut. THANK YOU SEPHARDI!

 

I'll be honest: never having made empanadas before, I was dubious about the filling. (Beef, hard-boiled eggs, olives, raisins, cumin, sugar, etc....? Yeah, right.) But I stuck to the recipe and... these were superb! My family demolished them. For me, the taste immediately took me back to a little empanada place in lower Manhattan I used to go to many years ago; I'm sure Sephardi Kitchen is right when she says this is authentic. (My fold-and-pinch technique needs work, so I'll take pictures NEXT time.) Made for PAC 2010.

 

I only followed the dough recipe and it was a disaster. 2/3 cups of water is WAY too much. I would suggest to mix the eggs and vinegar together along with 2 Tablespoon of water at first. And when needed, add more water thereafter. Following the recipe, I ended up adding 2 extra cups of flour to the original recipe.

 

These were great!! My fiance and I recently went to an Argentinian restaurant and loved their empandas, the dough was much lighter and flakier than other empanadas we had. These were absolutely almost a perfect match. I only changed it a little bit so they would be like the ones we had. I added a chopped tomato and some paprika. I did not add any sugar or raisins ( I don't like raisins) And I didn't add olives just because I didn't have any on hand. The dough was a bit sticky and a little bit difficult to deal with but I think next time I will just add the water slowly until it is the right consistency. In the end the dough was fantastic. I loved them and will make them again. Thank you Sephardi Kitchen.

 
RECIPE SUBMITTED BY
I am a junior at the University of Illinois @ Urbana Champaign, studying Speech and Hearing Science with a concentration in Audiology. I grew up in a very small rural town in northern Illinois and attended a residential high school (IMSA) in Aurora. I love soccer, fishing, dissecting stuff, drawing and painting, henna, pyrography, knitting (although I am not very good at it!) cooking and prowling for recipes online, Judaism, reading, rock climbing, and the outdoors. I hope to pursue a doctorate in Audiology (AuD) after undergrad. I have always loved cooking and trying new foods, and moving into my first apartment has been a wonderful opportunity to do so. However, it has also been quite a transition getting used to actually cooking for myself everyday, without making a huge ordeal. I do believe I am getting better at fixing a meal in a more efficient amount of time :)
View Full Profile