gailanng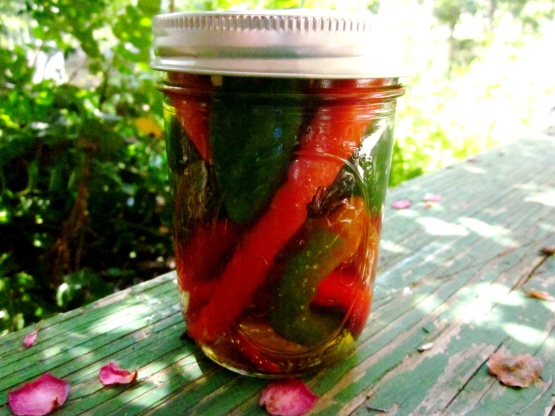 Spice up your food (and decorate your table) with this simple recipe. [Southern Living, September 2008]
14

ounces glass jars

1

cup red and green Thai red chili pepper, stemmed (or other peppers of your choice)

1

cup cider vinegar

1

teaspoon salt

1

teaspoon sugar
Fill 1 (14 oz.) glass jar with 1 cup red and green Thai chile peppers (or other peppers of your choice), stemmed, filling to about 1 inch from top of jar.
Bring 1 cup cider vinegar, 1 teaspoon salt, and 1 teaspoon sugar to a boil in a small saucepan over medium heat, stirring until salt and sugar are dissolved (about 2 to 3 minutes).
Remove from heat and let stand 5 minutes.
Pour hot mixture over peppers in jar. Cover and chill 3 weeks. Store in refrigerator up to 6 months.
Note: Chilling for 3 weeks allows the peppers to fire up the vinegar mixture. The longer it sits, the spicier it becomes.
Remember to wear rubber gloves when filling the jars with peppers.