Hot German Potatoes and Knockwurst
angjula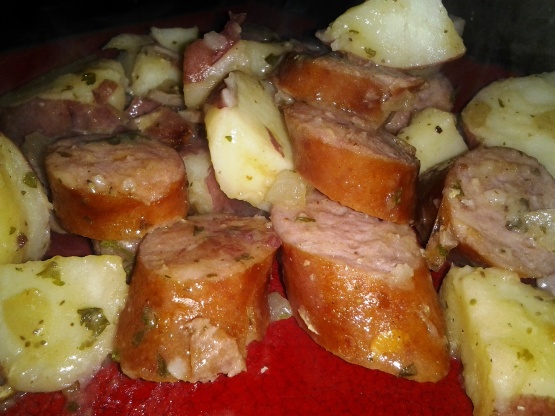 Bratwurst can also be used in this one-dish meal. From Hoffman's "Pot Luck".

This was delicious! All the flavors played very well together. I cooked the potatoes almost all the way prior to slicing them. Just before serving, I added the potatoes and knockwurst to the pan and let the ingredients simmer (covered) for 10 minutes. My guy and I both enjoyed this dish and agreed it's a keeper! We'll be making it again. Thank you for the recipe!
Cover potatoes with water in a medium saucepan. Bring to boil; simmer until tender, 25 to 30 minutes. Drain, cool slightly, and cut into slices. Place slices into a large heatproof bowl.
Fry the bacon in a medium saucepan over medium heat until almost crisp. Add the onion and cook until translucent, 5 to 10 minutes. Mix in the flour, sugar, mustard, salt and pepper. Stir in the vinegar, broth, and celery seeds. Cook, stirring often, until thickened.
Meanwhile, heat the knockwurst according to package directions; cut each into 6 to 8 diagonal slices. Add the knockwurst to the potatoes. Pour the sauce over and toss to coat. Sprinkle with the parsley and serve warm.