Hot and Sour Mushroom Soup (Tom Yum Het)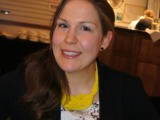 Tom Yum, one of the most famous Asian soups, is the pride of Thailand. It is made with mushrooms - shiitake and button work well. You may be able to find a decent Tom Yum soup paste at the store, if not I have one saved in my public recipes
4 cups water
1 medium onion, quartered
2 stalks lemongrass, chopped
3 -4 kaffir lime leaves, torn in half
4 cm cube galangal, chopped
2 cm cube fresh ginger, peeled and chopped
1 tablespoon tamarind pulp
3 dried red chilies, chopped
2 fresh hot green chili peppers (can use red)
1 tablespoon vegetable oil
2 tablespoons tom yum paste
200 g deep fried tofu
6 shiitake mushrooms, cups sliced
50 g button mushrooms, sliced
3 tablespoons soy sauce
1 teaspoon caster sugar
2 tablespoons lemon juice
1⁄2 cup fresh coriander, chopped
1⁄2 cup fresh basil leaf, torn
Directions
Put the first nine ingredients in a saucepan and bring to the boil (this is your stock). Simmer for 15-20 minutes over low-medium heat. Remove from the heat and strain. Reserve the stock and discard the rest.
Heat the oil in a large saucepan and sauté the Soup Paste for a minute until fragrant. Add the tofu, shiitake and button mushrooms and stir-fry over high heat for 1 minute.
Bring the prepared stock to a boil. Turn the heat to medium and add the sautéed tofu and mushrooms, the soy sauce, sugar and lemon juice. Simmer for 5-6 minutes over medium heat until the mushrooms are tender.
Sprinkle the coriander and basil and remove from heat. Serve hot.
Reviews
Most Helpful
Excellent recipe and directions. Made it exactly as described (I have several Asian groceries nearby, so ingredients weren't a problem) and not only did I love it, but my GF (soon to be DW), a very picky eater not particularly fond of most Asian cuisine, loved it also .... to the point of asking me to make it again.
Wow, this soup packs a wonderful flavour punch! It suits my taste buds perfectly -- spice-wise not overly hot, but plenty sour. I pan-fried the tofu to keep down the fat content, and used only 4 shiitake mushrooms as mine were huge. Be sure to cover your stock when it's boiling so you don't lose too much liquid. Now I'm off to the neighbour's to raid their kaffir lime tree again. Don't tell them it's me!