Prep 10 mins
Cook 55 mins

This is not your ordinary meatloaf. Horseradish in both the meat mixture and the saucy topping creates a really nice flavor throught this meatloaf. From America's Best Recipes, submitted by Maxine Johnston Scholtz.
Directions
Combine the meatloaf ingredients in a large bowl, mixing well. Form mixture into a loaf, and place in a 9x5x3 inch loafpan.
Combine sauce ingredients in a small bowl, stirring well. Spoon half the sauce mixture over the top of the meatloaf. Bake uncovered, at 375 degrees for 45 minutes.
Spoon the remaining sauce mix over the meatloaf, and bake for an additional 10 minutes. Remove to a serving platter.
Reviews
Most Helpful
Great meatloaf recipe - loved the addition of the horseradish sauce. DH, who is not much of a meatloaf fan, really enjoyed it as well. The horseradish really brings out the flavor of the sauce and meatloaf itself. Served this dish with mashed potatoes, baby peas, and sliced tomatoes - great comfort food meal. Made for Everyday is a Holiday tag, September, 2012.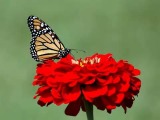 Was looking for a good meatloaf recipe & since I LOVE horseradish, this caught my eye. OMG this is SOOOOOOO good.....& the topping is to die for!!! The only change I made was I used 1-1/2 lbs. ground beef & 1/2 lb. ground pork because that was what I had out. Will most definitely be making this again....& if the wife likes it, (she's at work), this will be my go to meatloaf recipe!!! THANKS for sharing!!!<br/>UPDATE: The wife LOVES IT!!!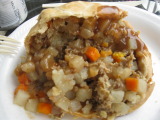 I originally found this meatloaf in the 'Southern Living Homestyle Cooking' and wow, it is my go-to meatloaf. The horseradish is not too spicy & the oats give it a different texture from breadcrumbs or rice. I probably make this once every other month or so and it makes enough for ~3 meals between my husband & myself.