Jfoxe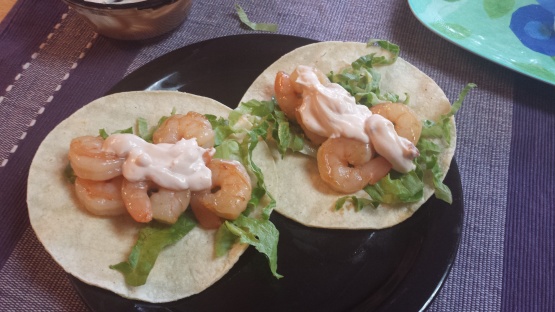 Delicious tacos everytime!

Top Review by Jfoxe
This was a great recipe. A wonderful blend of sweet and spice! Only the chipotle cream had any kick to it so it was perfect to share with my 5yr old. We both loved the flavor in the shrimp (he just had a little regular sour cream), and I loved the subtle chipotle flavor roo.
Warm tortillas in a dry skillet or lightly fry in a small amount of oil until crisp.
Heat oil in medium skillet.
Add shrimp and cook over medium heat for about 3 minutes or until mostly pink.
Stir in lime juice, honey, and Mexican seasoning.
Cook for about 5 minutes more until mixture is thick and glazes the shrimp.
Meanwhile, stir together sour cream and adobo sauce to make Chipolte Cream.
Spoon shrimp into tortilla and top with garnishes and a dollop of Chipolte Cream.