Kathy228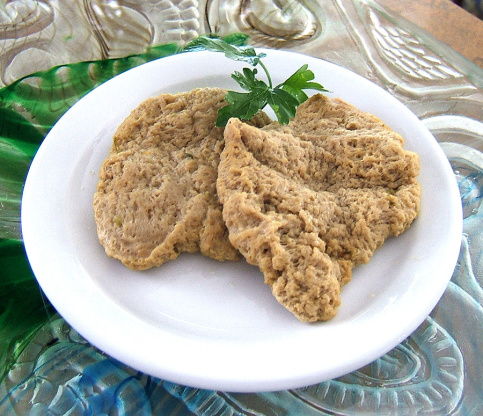 A very tasty, and tender seitan is produced. You can change the taste by the changing or adding different spices. eg. adding traditional chicken herbs like sage, poultry seasoning will produce a mock chicken. Found this recipe on-line.
Add garlic powder and ginger to flour and stir.
Mix liquids together and add to flour mixture all at once. Mix vigorously with a fork. When it forms a stiff dough knead it 10 to 15 times.
Let the dough rest 2 to 5 minutes, then knead it a few more times. Let it rest another 15 minutes. It will be rubbery.
Cut gluten into 5 or 6 pieces. Pat out and stretch dough to form into "cutlet" shapes.
Combine broth ingredients. Simmer seitan pieces in broth for 30 to 60 minutes. Let seitan cool in the broth.
You can use this right away, refrigerate it for up to a week, or freeze it for several months.