PCrocker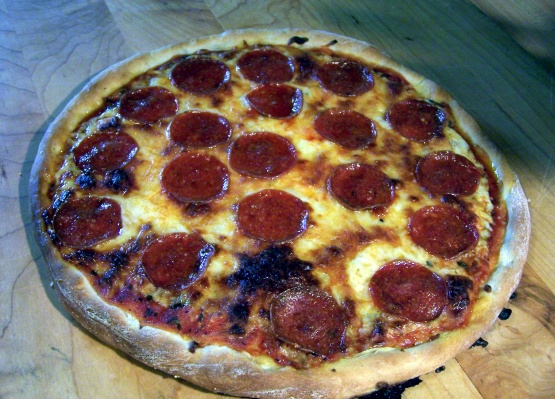 This homemade pizza and a movie is a Friday night tradition at our house. It makes two pizzas but sometimes it's fun to make smaller ones so everyone can put their favorite topping on their own pizza. I use Easy Pizza Sauce #98804.

I halved this recipe thinking it would be too much crust. I easily could have made a full batch and had a 16 inch pizza with fairly thick crust. I added some garlic powder and it tasted great. Also, I placed it on my pizza stone using corn meal so it wouldn't stick to brown the crust for ten minutes before adding toppings. This worked out great. Overall, it's not the kind of crust I'm going for, but it's much better than most I've tried.

Overall: 4/5 stars
Flavor: 5/5 stars
Texture: 4/5 stars
Crispy on the outside, soft chewy on the inside: 3/5 stars
Puffiness while cooking: 2/5 stars

Final thought: Good, easy to make crust if you're in a hurry, but not going to be the best pizza crust you've ever had.
Preheat oven to 450 degrees and move oven rack to lowest position.
Dissolve yeast and sugar in warm water in a mixing bowl.
Let sit for 10 minutes to let yeast foam up or proof.
Stir in oil, flour and salt and knead about 5 minutes.
Place in oiled bowl, turning once, and let rise about 30 minutes.
Punch down dough and divide in half; pat each half into two greased round pizza or cookie pans with floured fingers.
Bake for 10 minutes or until crust begins to turn golden.
Sprinkle 1/2 cup of mozzarella cheese on each crust.
Top with pizza sauce, parmesan cheese, mozzarella cheese, and your favorite toppings.
Bake about 10 minutes or until cheese is melted and pizza is lightly browned.