I've been making this same recipe for home made biscuits for 40 years, so I could not begin to tell you where the recipe came from. I just know its GOOD
Directions
Sift flour with baking powder and salt.
Cut in shortening till mixture resembles coarse crumbs.
Add milk all at once and mix till mixture follows fork around bowl.
Turn out on lightly floured board.
Knead gently for about 1/2 minute.
Roll or pat 1/2 inch thick.
Flour rim of glass or biscuit cutter and cut out biscuits.
Put on (ungreased) cookie sheet and bake at 450° for 12 to 15 minutes.
Most Helpful
These are wonderful. I am southern and am embarassed to say that every time I have ever tried to make buscuits they came out like little rocks. They could have easily been considered lethal weapons. Thank you so much for posting. Very easy and very good.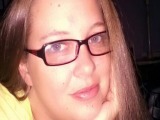 These biscuits were very good, cheap and easy. I followed the recipe exactly and turned out good. I made the biscuits about 3 inches in diameter and about 1/2 inch thick. I was able to get about 9 biscuits.
I just made these biscuits and they were great!! I used butter flavor crisco in them and they were light and fluffy...also browned really nice. This is my new biscuit recipe!!