Calee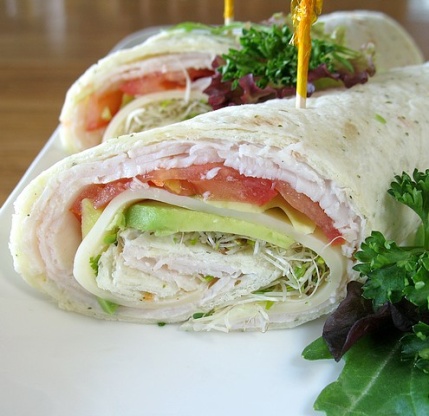 This is a nicely flavored wrap sandwich.

I made two and we loved them! After 2 grocery stops, I struck out on the sprouts. I used Mission whole wheat tortillas (10" burrito size), muenster cheese, and even without the sprouts, they were still great! Next time, I may add some thinly sliced red onion. I suppose if one wanted to be really decadent, you could make guacamole out of the avocado (or be lazy and buy it already prepared!) I have discovered in wrap making, that if you use shaved meats, it is much easier to get them wrapped up nicely. Kbzhansen, thanks for a great recipe!
Blend together the dressing and cream cheese.
Spread evenly on tortillas.
Evenly lay turkey, cheese, avocados, tomatoes and sprouts, leaving a 1 inch border around the edges of tortilla.
Fold the bottom edge toward center and firmly roll away from you until completely done.
Place seam side down and cut in half diagonally.
Serve.