Hidden Treasures Appetizers
Bergy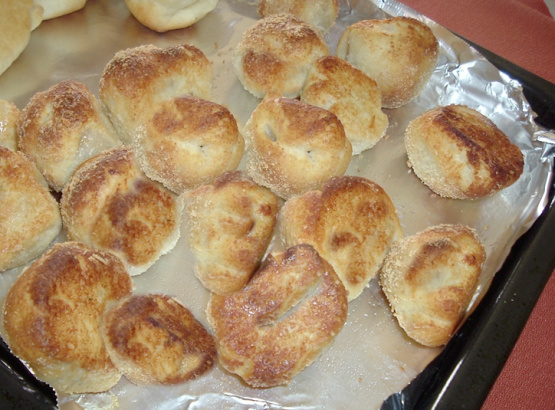 Here's a nice little tidbit to have with cocktails. For variety you can add a small square of your favorite cheese to the mushroom crown before sealing in biscuit dough.

Top Review by Manami
Hello luvmybge, we had a ball making and eating these mushrooms! We used fresh mushrooms instead of bottled, added onion & garlic powder, red pepper flakes, which added that zing. Also, added a bit of olive oil to make the buttery broth & finished it with 1/4 - 1/3 cup of Parmesan. This, we served with a nice dipping sauce. Thanks for posting a keeper, Diane :)
Drain buttery broth from mushrooms.
Reserve broth.
Blot excess moisture from mushroom crowns with paper towels.
Separate biscuits and cut each one into fourths.
On a floured board, press biscuit quarters into rounds and wrap one around each crown.
Brush wrapped mushrooms with buttery broth and roll in Parmesan cheese.
Bake on a greased cookie sheet in a preheated 400F oven for 10-15 minutes.