Herb Roasted Beef Round Tip
Gdeits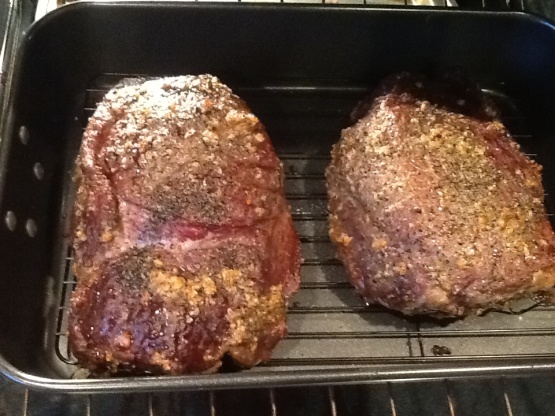 I looked through a bunch of recipes for Round Tip Roasts and then took from this one and that one to make this roast. I was leary...afraid it would be tough...but the price was soooo right. To my happy surprise and relief, it was wonderfully tender and juicy. DH raved about the great taste and the juiciness and how tender it was.

Neccessity required I cooked this a little differant (don't have an oven here in Beijing) but followed all the directions and ingrediants to put it together exactly. I did brown the roast and then place the whole thing in the crock-pot to cook on low for 6 hours. The taste is awesome, the flavors blended so well and the aroma in the house as it was cooking was wonderful. Served this with roasted cauliflower and baked potatoe. Made for a wonderful meal with the meat fall apart tender and full of flavor. Made for PAC Spring 2010
Preheat oven to 325°F.
Combine seasonings with oil. Rinse and pat roast dry. Rub the paste thoroughly and evenly onto the roast.
Place roast on rack in shallow roasting pan, fat side up if there is any fat (mine was well trimmed). Roast for 2 hours or until a meat thermometer reads 140'F for medium-rare. The longer you roast the meat beyond 140'F, the tougher and dryer the meat will get.
Remove from oven and let stand for 15 minutes. Slice thinly to serve.