Beef Tips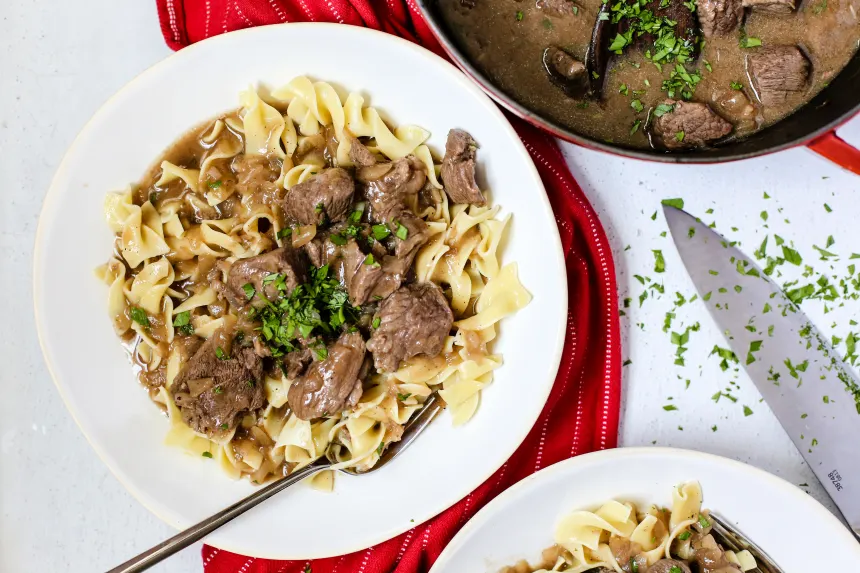 photo by Ashley Cuoco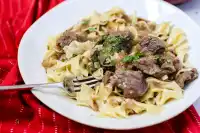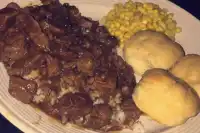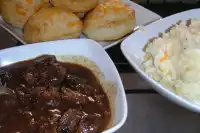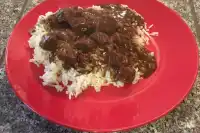 Ready In:

2hrs 15mins

Ingredients:

11
directions
In a large skillet, heat oil over high heat.
Saute the onion until translucent.
Add stew meat and cook on high heat until meat is browned on all sides (3-5 minutes). Pour 2 cups water, soy sauce, and worcestershire sauce into the skillet.
Stir in garlic powder, salt and pepper.
Bring to boil and reduce heat.
Cover and simmer for 1 1/2 to 2 hours.
Then combine the gravy mix with 1 cup of water, mix thoroughly and stir into the meat. Bring to boil, stirring frequently until it slightly thickens.
Serve over egg noodles.
Reviews
Dana, this was delicious! It was very easy to prepare, smelled great while it was simmering, and my family of 3 ate the WHOLE thing. I made a few little changes: used lots of fresh garlic instead of the powder (I sauteed it with the onion), dusted the beef in flour before browning (just a personal preference) and used just 2T of soy & 2T of worcestershire and made up the liquid difference with 1/4 cup red wine (Merlot). I added some mushrooms, too. It was absolutely fantastic with lots of tender beef and tasty gravy. I will be making this a lot; thanks for posting it!

 

You have a major hit hear. This dish is very easy to prepare yet taste like you spent all day. The only thing I did different is use low sodium ingredients. My daughter who was on her way out and very rarely eats red meat was absolutely drooling. Hubby thought it was great and told me to give Dana the gold. LOL I told him it was stars! Thanks we will do this often!

 
Tweaks
My tweaks: I sautéed the onion and about 1 ½ tsp of minced garlic in olive oil. Then I seasoned about ½ cup of flour with garlic powder, pepper, celery salt and a dash of Tony's Cajun seasoning. I tossed about 1 ½ lbs of cubed beef in the seasoned flour then browned it. Stir constantly so it doesn't burn/stick to the bottom. Add a little more olive oil if needed. Then I added the soy sauce and Worcestershire sauce (next time I'll use only 1/8 of a cup). I made the gravy with the McCormick's Brown gravy packet and about ½ a Beef with Herbs gravy packet. I used 1 ½ cups of beef broth instead of water. Then I added the gravy/broth mixture to the pot/pan. I brought it to a boil and then let it simmer for an hour. Next time, I'd let it simmer for 2 or use the slow cooker so the beef becomes more tender. I had to stir periodically so it didn't stick to the bottom (even on simmer). I would also season the meat the night before. I bought baby carrots to add in to the beef tips, but forgot. I served over egg noodles.

 

Great base recipe; significant, easy tweaks needed. I've made this as-is twice, and about 20 times with ever-evolving tweaks. I finally nailed it. For the default 2-lb-of beef recipe, I use just over a pound of meat instead (extra sauce). Double the sauce if you're going to do a full 2 lb. Get rid of the garlic. Add a couple glugs of balsamic vinegar along with the worcestershire and soy sauce (I actually heat the liquids, except for the oil, but including the water in a pot, then add the browned beef and onions to it: cover once it boils and you set it to a simmer). Olive oil works surprisingly well, btw, for browning (the flavor does not overwhelm the final result... Only add a dash of salt; the soy is plenty salty enough. Along with the black pepper, add a bit of white pepper to the mixture, before you cover and set to a simmer for two hours. Sometimes I add a couple shakes of onion powder, too... MOST IMPORTANTLY: Use only a teaspoon of brown gravy powder instead of a whole packet, once the two hours are up. Add a bit more if you really want, but only by small increments, to-taste (and remember to add it to a bit of water first; I don't use a whole cup... maybe half for the initial tsp. of powder. Add extra black/white pepper, to-taste. Maybe an extra glug of balsamic to adjust. Have bourbon or red wine on-hand? A splash of one of those, if desired... Want this as a stew instead? Add carrots and potatoes halfway through the 2-hour simmering process (celery too, if you have some handy). To thicken, once the two hours are up and you've done the extra seasoning, add about a Tbs. of cornstarch to a bit of cold/room-temperature water (about 1/8 a cup) then stir briskly into the hot mixure. Not thick enough? Repeat, Tbs. by Tbs. Never add cornstarch straight to not liquid, unless you want nasty little cornstarch dumplings. Always mix in cool water first... Friggin' delicious.