diner524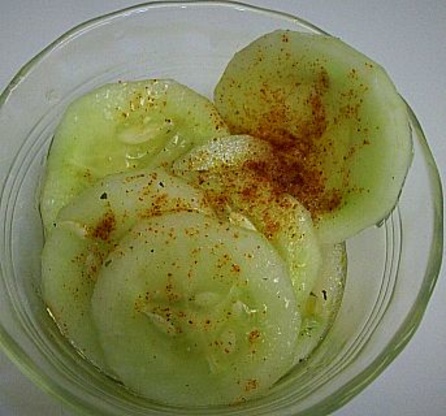 This is a nice little twist on that good old cucumber salad. I found this recipe in Gardening News. Cooking time is the standing time.

Top Review by etully
This was really good, a nice twist on plain cukes. I used minced garlic instead of the clove right in the marinade. This makes a great side and it's easy. I used two "European" cukes and put the whole thing together in the morning for an afternoon get together. The leftovers were good the next day as well. I will surely be making this again. Thank for an excellent recipe.
Add the salt to the cucumbers and let them stand in a large bowl.
After 30 minutes the juice will have drained from the cucumbers.
Drain the juice from the bowl.
Rub a second large bowl with the garlic halves. (optional).
In the second bowl mix the oil, vinegar, water, and sugar.
Add drained cucumbers and mix well.
Sprinkle with pepper and paprika.
Cover and chill for 30 minutes before serving.
Enjoy.