Rita1652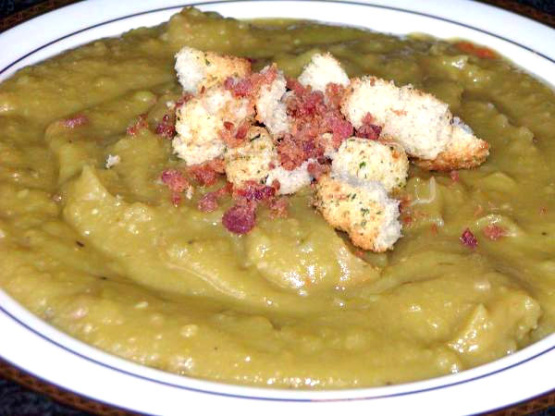 The onions, carrots, celery, potatoes and garlic are sauteed first to enliven the sugars in them. This comfort soup gets a wonderful smokey flavor from your choice of ham bone or shank or smoked turkey wings. It's swirled with sherry. Topped with bacon bits and croutons.

This soup is absolutely delicious! I haven't made split pea soup in a long time but had a ham bone and some ham broth that I didn't want to go to waste. I'm sure I've never put potatoes in my split pea soup before but this sounded interesting. It turned out wonderful!! I have to say that I did not use the oregano, bay leaf or sherry.....personal preference.......but I followed everything else as written. This is definitely a keeper in my book! Thanks for sharing!
In a large pot heat oil add onions, celery, carrots, potatoes and carrot saute for 5 minutes add garlic, oregano, bay leaf, salt, pepper & ham bone stir 1 minute. Add peas and cover with enough water to completely submerge all ingredients by a couple inches.
Bring to a boil. Reduce heat and simmer for about 3-4 hours, until thickened be sure to stir throughout the cooking. The longer you cook it the thicker it gets.
Go ahead a sneak a taste.
Season with hot pepper sauce and black pepper Drizzle with sherry.
Optional I prefer-Blend all but meat in a blender to smooth out.
Garnish with croutons and bacon bits.