Heart Smart Bisquick Pizza Bake
lazyme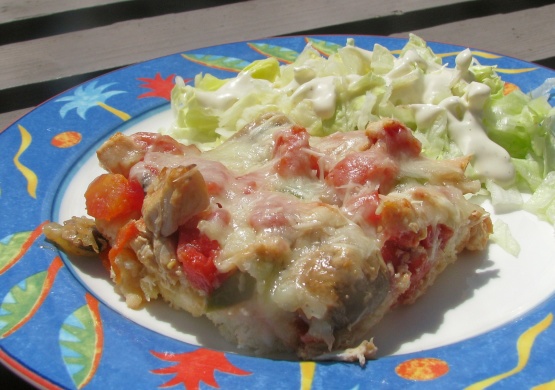 This is loosely adapted from the back of a Heart Smart Bisquick box. Regular Bisquick may work, but I've never tried it. It's low-cal and healthy, and can be tweaked significantly to suit your palate. I've changed this around to make Chicago-style pizza and buffalo chicken pizza, so it's a very versatile recipe!

This turned out very nice indeed and it's a lot faster than making a traditional crust. I had some pizza blend cheese in the fridge and used that. Used all the veggies ask for and added some crumbled veggie sausage. This is a recipe that I'll likely do again and again.
Preheat oven to 400°F.
Mix together Bisquick mix, egg whites, water, and half of the garlic salt. Spread the batter into a sprayed 8"x8" pan or casserole dish.
Cook bell pepper, onion and mushrooms in a pan over medium heat, stirring frequently, until onion is tender.
Stir in chicken, tomatoes, seasoning, red pepper flakes and rest of garlic salt, and heat until hot.
Spoon chicken and vegetable mixture over the batter in pan, then sprinkle with mozzarella and parmesan.
Bake 20-25 minutes, or until golden brown.