Heart Shaped Chocolate & Cherries & Cream Cake
Pumpkie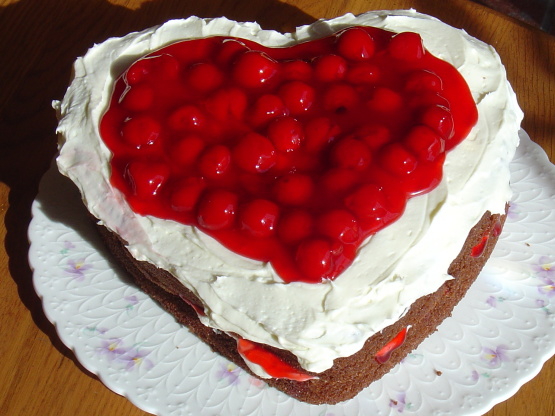 Every year I pick a cake to make for Valentine's Day, this one is from Taste Of Home and is beautiful. Cake is baked in two 9 inch heart shaped pans, I found them in regular pans and disposable tin pans. My cake took longer to cook about 30 minutes. Also this is a very sweet cake. I used two cans of cherry pie filling (not all of both) and for the topping on top I tried to just get the cherries with just a little of the juice.

This cake was both beautiful and delicious. I was not able to find the heart-shaped pans, so used round ones. For the cherries on the top, I had a large heart-shaped cookie cutter which I inserted in the cake, filled with the cherry pie filling, then carefully lifted out the cookie cutter. It worked fairly well, but would have been better if I had taken more care to get more cherries and less filling. The only other variation I made was to the cakes themselves. After the layers had cooled, I used a toothpick to make a lot of little holes, then sprinkled the layers with a few tablespoons of Kirschwasser (a cherry brandy). The flavor change was probably quite subtle, but it made the cake very moist and rich. Definately a keeper.
In large bowl, cream butter and sugar.
Add eggs one at a time, beating well after each one.
Beat in vanilla.
Combine the flour, cocoa and baking soda.
Add to creamed mixture alternately with buttermilk.
Then beat in water and oil until smooth.
Pour into two greased and floured 9 inch heart shaped baking pans.
You can also line the pans with parchment paper and grease and flour that as well.
Bake at 350 for 20-25 minutes or until cake tester inserted near center of cakes comes out clean.
Cool for 10 minutes before removing from pans to wire racks to cool completely.
In a mixing bowl, beat cream cheese and sugar until fluffy.
Beat in cream and extract.
Place one cake on serving dish; spread with half of cream cheese mixture.
Refrigerate for 10 minutes.
Top with 1 cup pie filling and second cake; spread with remaining cream cheese mixture.
Make a heart shape indentation in center of cake (can use a knife to trace a heart shape); fill with remaining pie filling.
Refrigerate until serving.