Heart Healthy Cinnamon Rice Pudding
Boomette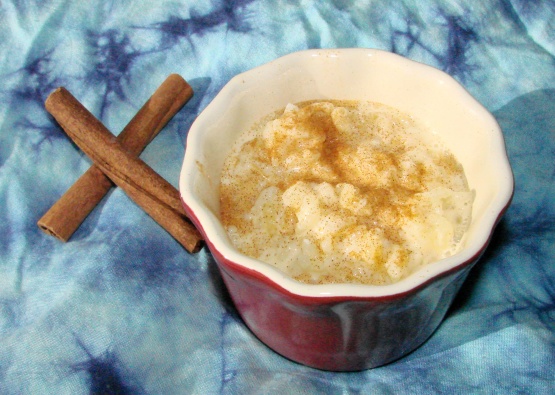 I can say this is heart healthy because I found this recipe in the American Heart Associations Healthy Recipes booklet. I love the taste of this pudding! The first time I tried to make rice pudding when I was a teen it came out looking like a form of cement - needless to say I've improved and this recipe is now a favorite.

I used vanilla soy milk in this, so I skipped the vanilla and only used about 1 Tblsp of sugar as the milk has sugar in it. I think I could have added a little more sugar though as it was not quite sweet enough. This is easy to make and made a nice addition to out Sunday brunch. Thanks for the recipe.
In a large, heavy bottomed saucepan, stir together the 2 1/2 cups milk and the rice. Bring to a boil over high heat, stirring occasionally.
Reduce heat to medium high and boil for 5-6 minutes or until the mixture begins to thicken, stirring occasionally.
Stir in the other 1 cup of milk, the cinnamon stick, sugar and lemon zest.
Increase the heat to high and return to a boil, stirring occasionally.
Reduce the heat to medium high and boil for 4-5 minutes or until creamy and soupy.
Remove from the heat.
Stir in the vanilla and let the mixture stand for 30 minutes to thicken somewhat.
Before serving, remove the cinnamon stick. Sprinkle the individual dishes of pudding with ground cinnamon to your tastes.