Healthy, Vegan and Terrific Strawberry Pancakes
Prose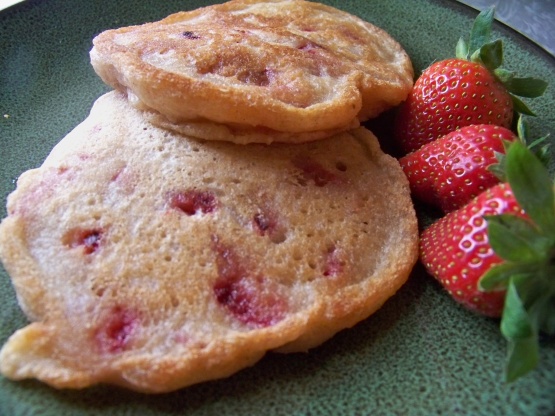 I found this recipe in the 2009 Vegetarian Journal (Issue One). I just made it this morning and it makes light, fluffy, melt-in-your-mouth delicious pancakes. Silly me for using boxed mixes all these years! I'm sure you could substitute cow's milk if you don't have soymilk.
Blend together dry ingredients.
Add chopped strawberries and stir until coated.
Make a well in the middle and add soymilk and oil.
Blend well, but do not beat.
Add more flour or soymilk if needed for the right consistency of the batter.
Pour enough batter on a medium-hot griddle and flip when the edges look dry. Keep in a warm oven until ready to serve.
ENJOY!