Healthy Sweet Potato Bars With Oatmeal Whole Wheat Cookie Crust
chefmata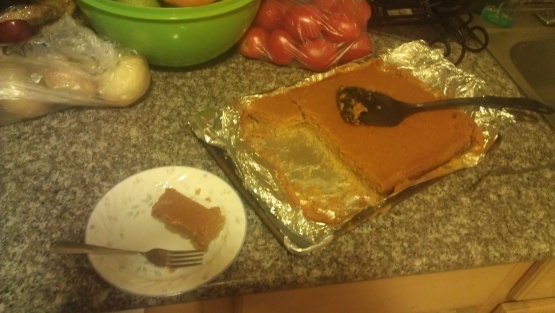 You will not miss the sugar and fat I took out of this dessert bar. It would also work well with carrots or pumpkin. I like to cook the sweet potatoes in the microwave ahead of time for easy peeling later.

What a great way to enjoy sweet potatoes, & believe me, I'm always interested in new ways to prepare 'em! Great crust & very tasty filling! Couldn't be better than that! I kept these all right here at home, but I'm already planning on making them again soon to share with one of the monthly groups I host! A very nice keeper of a recipe! [Made & reviewed in New Kids on the Block recipe tag]
Put sweet potatoes in a microwave safe dish and add some water to the bottom. Cover with saran wrap.
Microwave on high for about 7 minutes or until knife inserts easily. Let cool.
Preheat oven to 350 degrees.
Put dry ingredients in food processor and pulse until oatmeal is ground.
Combine dry ingredients in a medium bowl with egg whites and oil.
Press into greased 13x9 pan. (I like to line it with foil and then grease it for easy cleanup).
Bake for 10 minutes.
Peel sweet potatoes and put in large bowl. Add remaining ingredients and mix with a hand blender until smooth.
Pour over crust.
Bake for 45 minutes or until set.
Cool before cutting.
Store in refrigerator.