jonesies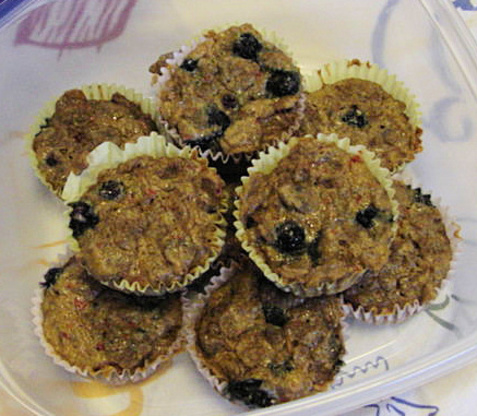 Yummy, mouthwatering muffins that are healthy for you! You can also substitute other fruits for the blueberries; i've tried pineapple chunks and raisins.

Wow! so moist and delicous. they don't even taste like "healthy" muffins. i loved that there was almost no sugar in them. can not wait to make again and will double the recipe and freeze a bunch.
Preheat oven to 375F.
Spray a 12-muffin tin with non-stick spray and set aside, or use muffin liners.
Combine flour, baking soda, cinnamon and salt in a medium bowl.
Set aside.
Drain peaches and reserve 1/3 cup of syrup.
Puree peaches and reserved syrup in a blender, until smooth.
Whisk the peach puree, sugar, egg substitute and oil.
Add Bran Flakes and mix well.
Add flour mixture and stir until dry ingredients are just moistened.
DO NOT OVERMIX!
Gently fold in blueberries.
Divide batter among the muffin cups (about 2/3 full).
Bake for 20 mins, or until toothpick test shows doneness.
Serve warm.