Healthy Butter Chicken (Murgh Makhani)
Maggie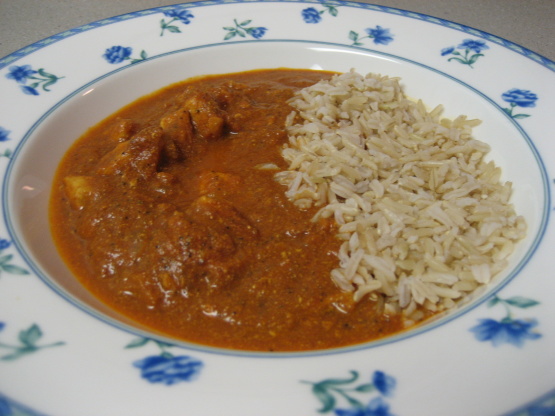 Stolen from Sapna Magazine Online, edited for clarity. This version has 75% less fat and 60% fewer calories than the traditional Murgh Makhani. Edited 6/18/08 based on commenters.

Top Review by Maggie
As written, I can only give this 3 stars because it simply wasn't nearly as close to Butter Chicken (one of my all time favorites) as I hoped or expected. While making this, I used about a third of the cayenne called for in the recipe, and I'm glad that I did because even with just that amount, this was far spicier than I've ever had. I think the cayenne and perhaps so much tomato flavor also gave this more of chili taste than a curry taste overall. **************************** All of that said, this wasn't at all terrible, and I will give it another try using something like 1/3 teaspoon of cayenne and perhaps leaving out the tomato paste and sticking with just the tomato puree. The other flavors from the other spices and ingredients were wonderful but just too overpowered. If I can bring those more to the front with those changes, I think this could really be a winner. **************************** Thank you for posting a healthier alternative to one of my faves!
Spray a 12" nonstick skillet with cooking spray and sear the chicken cubes. Once done, take the chicken out of the pan and put aside.
Sauté onion in one teaspoon of canola oil on low heat.
Add turmeric powder and sauté for another 1 minute, stirring constantly. Add tomato paste and sauté another minute.
Add butter, lemon juice, ginger, garlic, garam masala, cayenne pepper, salt, pepper, cumin and sauté for another 5 minutes, stirring occasionally.
Add chicken back to the pan and cook for another 3 minutes.
Stir in milk, yogurt, tomato puree, and water.
Simmer for 30-45 minutes, or until sauce has thickened.