Chicken Makhani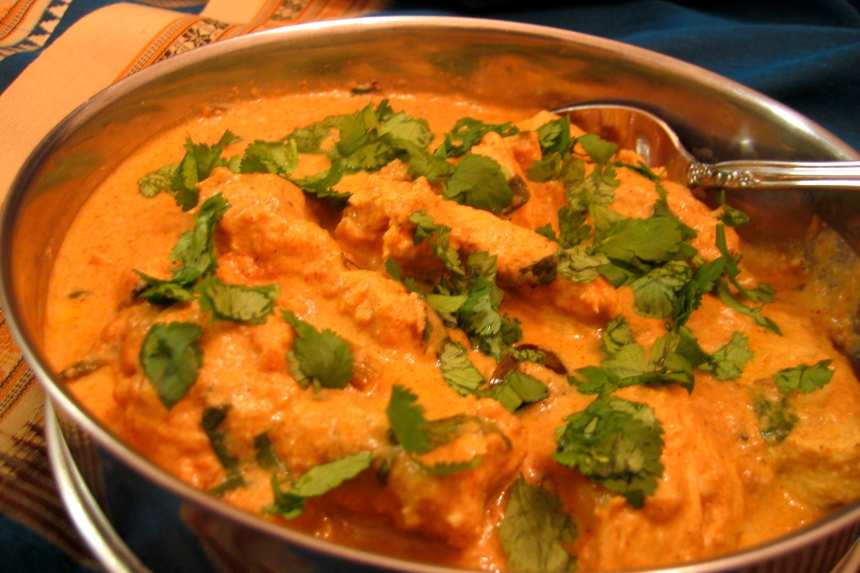 photo by eatrealfood

Ready In:

4hrs 30mins

Ingredients:

25
directions
Skin and clean the chicken.
Make incisions with a sharp knife on breast and leg pieces.
Apply a mixture of red chilli powder, lemon juice and salt to the chicken and leave aside for half an hour.
Hang the yogurt in a muslin cloth for 15-20 minutes to remove extra water.
Add red chilli powder, salt, ginger-garlic paste, lemon juice, garam masala powder and mustard oil.
Apply this marinade to the chicken pieces and refrigerate for 3 to 4 hours.
Put the chicken onto a skewer and cook in a moderately hot tandoor or a preheated oven (200 degrees celsius) for 10-12 minutes or until almost done.
Baste it with butter and cook for another 2 minutes.
Remove and keep aside.
Heat butter in a pan.
Add whole garam masala.
Let it crackle.
Then add ginger-garlic paste and chopped green chillies.
Cook for 2 minutes.
Add tomato puree, red chilli powder, garam masala powder, salt and one cup of water.
Bring to a boil.
Reduce heat and simmer for 10 minutes.
Add sugar or honey and powdered kasoori methi.
Add cooked tandoori chicken pieces.
Simmer for 5 minutes and then add fresh cream.
Serve hot with naan or parantha.
Questions & Replies

Got a question?
Share it with the community!
Reviews
this butter chicken was good but not really the kind of butter chicken we would devour also seeing the other reviewrs comments i decreased the amount of lemon juice almost to nothing in the entire recipe i just added abt 1 tsp lemon juice yet it was reall sour n that was not bcos of lemon juice but due to the amount of tomato puree i would stick to my butter chicken recipe that ill b posting ver soon the traditional butter chicken recipe which is used in many indian restaurants with variations of course ..thanks!!!

 

Boy O Boy! What a creation this is!I made this for lunch this afternoon and my mom and bro. jumped onto the table to eat this like a cat would leap onto a mouse! I served it with hot rotis and long-grain Basmati rice. What a hearty meal they've just had - you could see that contented smile on their faces stretching from ear to ear!:) I did make a few changes(additions, deletions, etc), though. I used 4 tsps. of dried kasoori methi(crushed between my palms)- just love that stuff! For the 1 tbsp. whole garam masala, since I didn't have a packet of whole garam masala on hand, I used 2 bay leaves, 3 cloves, 3 green cardamoms and 1 inch cinnamon stick. I did use honey this time for the makhani sauce, but since my mom and bro both love spicier food than sweeter creations, I will be totally omitting the honey next time on. This chicken dish has a beautiful colour(I did add a dash of red food colour to give it that luscious red look!) and an aroma that is soooo wonderful, that even my dad who is a pure vegetarian like me, came running to the table thinking I had made some new veggie dish. LOL. Everyone said the colour and aroma were fantastic. I did garnish it with fresh corriander leaves(about 2-3 tbsps., finely chopped). I felt the quantity of lemon juice as stated in the recipe was a little too much, so I used just the juice of 2 lemons(freshly squeezed) in the marinade and I did not add more later. I stuck to these ingredient measurements which were for a 800gms. chicken, but, I did use a 1 kg. chicken and the measurements worked like a charm. I didn't use mustard oil, as I can't even stand that stuff, so, I used Minara Premium Sunflower Oil which is what we use in our daily cooking. Since I wanted to cut out on the cals as much as possible, I substituted the fresh cream with low-fat plain yoghurt(1cup, well beaten). I used for the entire chicken dish(including the marination and the makhani sauce),oil and not butter. This might sound funny, but this is just for health reasons, nothing else. I'm sure the chicken marinated in butter and the sauce made with butter would be even more delish! As I was short of time, I could marinate the chicken only for 2 hours this time. Next time, I will do it for 4 hours. I'm sure the longer the chicken sits coated in the marinade in the refrigerator, the tastier it'll be when cooked. Also, I would like to mention that the cooking time for cooking the chicken in the oven is perfect and so is the temperature. Next time, I will be adding more green chillies to this, omitting the sugar/honey totally and I'll use yoghurt that is slightly on the sour side(just keep the yoghurt out for a few hours before adding to the dish to have it on the sour side) and not yoghurt straight out of the refrigerator like I used today. All in all, this is a wonderful dish and I promise to make it again! THANK YOU for posting.

 

This was really nice, although i did reduce the amount of chilli powder in the sauce as 1 tablespoon seemed a lot, and it was still pretty hot. I was also concerned about the amount of tomato puree that was called for, so I just used a few tablespoons of this and a tin of tomatoes. I used all of the lemon juice that was suggested and didn't think this was too much.

 
RECIPE SUBMITTED BY
<p>It's simply this: I love to cook! :) <br /><br />I've been hanging out on the internet since the early days and have collected loads of recipes. I've tried to keep the best of them (and often the more unusual) and look forward to sharing them with you, here. <br /><br />I am proud to say that I have several family members who are also on RecipeZaar! <br /><br />My husband, here as <a href=http://www.recipezaar.com/member/39857>Steingrim</a>, is an excellent cook. He rarely uses recipes, though, so often after he's made dinner I sit down at the computer and talk him through how he made the dishes so that I can get it down on paper. Some of these recipes are in his account, some of them in mine - he rarely uses his account, though, so we'll probably usually post them to mine in the future. <br /><br />My sister <a href=http://www.recipezaar.com/member/65957>Cathy is here as cxstitcher</a> and <a href=http://www.recipezaar.com/member/62727>my mom is Juliesmom</a> - say hi to them, eh? <br /><br />Our <a href=http://www.recipezaar.com/member/379862>friend Darrell is here as Uncle Dobo</a>, too! I've been typing in his recipes for him and entering them on R'Zaar. We're hoping that his sisters will soon show up with their own accounts, as well. :) <br /><br />I collect cookbooks (to slow myself down I've limited myself to purchasing them at thrift stores, although I occasionally buy an especially good one at full price), and - yes, I admit it - I love FoodTV. My favorite chefs on the Food Network are Alton Brown, Rachel Ray, Mario Batali, and Giada De Laurentiis. I'm not fond over fakey, over-enthusiastic performance chefs... Emeril drives me up the wall. I appreciate honesty. Of non-celebrity chefs, I've gotta say that that the greatest influences on my cooking have been my mother, Julia Child, and my cooking instructor Chef Gabriel Claycamp at Seattle's Culinary Communion. <br /><br />In the last couple of years I've been typing up all the recipes my grandparents and my mother collected over the years, and am posting them here. Some of them are quite nostalgic and are higher in fat and processed ingredients than recipes I normally collect, but it's really neat to see the different kinds of foods they were interested in... to see them either typewritten oh-so-carefully by my grandfather, in my grandmother's spidery handwriting, or - in some cases - written by my mother years ago in fountain pen ink. It's like time travel. <br /><br />Cooking peeve: food/cooking snobbery. <br /><br />Regarding my black and white icon (which may or may not be the one I'm currently using): it the sea-dragon tattoo that is on the inside of my right ankle. It's also my personal logo.</p>
View Full Profile