Maineiac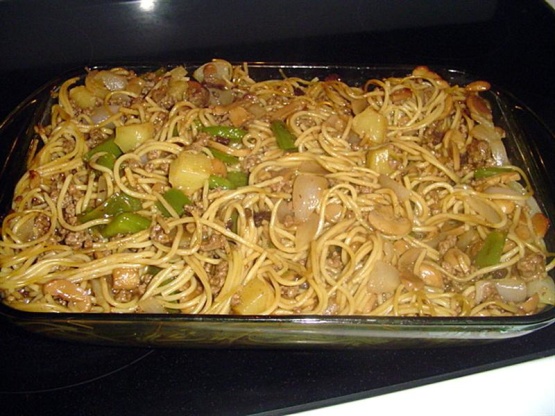 One of my favorite comfort foods. You can omit the pineapple, if you'd like.
Top Review by CA.TN
I omitted the mushrooms, used crushed pineapple and instead of 4 cans of gravy, I used a large jar of beef and mushroom gravy along with a can of Campbells beef consomme. Also added a splash of Worcestershire, red pepper flakes, and some water chestnuts. My DH loved it and couldn't believe he liked it so much after I began rattling off all the ingredients. We've made this several times and it's become an easy quick dinner during the workweek.
Brown meat,onions,green pepper and mushrooms.When done add the sugar.Drain meat before adding sugar if necessary.
Add pineapple.
Cook pasta about 5 minutes or so.Not all the way through.Drain.Do not rinse.
In a separate bowl,combine gravy and soy sauce.
Mix all together.Put in covered casserole (Pam it,if you like)
Bake at 350 degrees for 30 to 45 minutes.