Cujo4x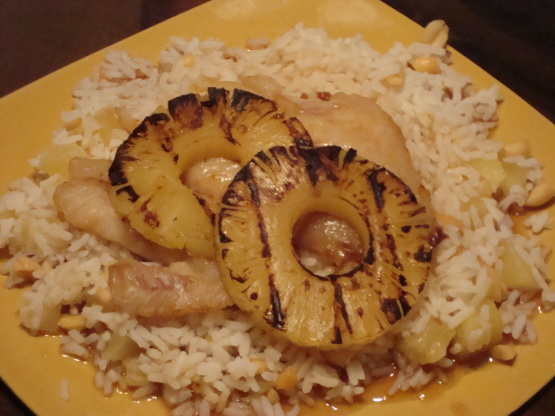 A wonderful dish that brings back the flavor of the islands. A side dish that dresses up plain old pork chops or can be used as a bed for seafood like grilled scallops or shrimp.
1. Pour syrup from the can into a sauce pan. Bring to a boil for approximately five minutes.
2. Lower heat and stir in brown sugar untill it disolves completely. Add ginger and soy and allow to sit on very low heat to keep warm.
3. On a grill place pinapple rings and cook for about four minutes on one side and one minute on the other side. ( you can broil them in the oven, but you should baste the rings with the sauce before broiling to help pinapple turn golden brown) place pinapple rings on top of rice, pour sauce over rice.
I highly recommend adding grilled scallops or shrimp to this dish. enjoy.