Hawaiian Appled Pork Chops With Carrots
Prep 25 mins
Cook 1 hr 5 mins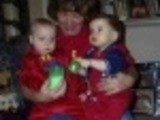 Can't you just see the roasting pig with an apple in it's mouth? These pork chops are cooked with apples, raisins and carrots in addition to the usual sweet and sour ingredients of onion, green pepper and pineapple. This tasty pork dish is "to die for." Serve it over rice and with a salad.
Directions
Brown the chops with the green pepper and onion in the olive oil on a high heat for 1-2 minutes on each side. Salt and pepper to taste, then reduce heat to medium low and top with the apples and carrots.
Mix the other ingredients together and pour over the top of the chops, apples and carrots.
Cover and simmer for 1 hour.
Reviews
Most Helpful
I left out the apples. (personal preference) I thought the recipe was tasty, but very mild flavor wise. There was plenty of sauce and the pork chops were falling apart tender, andthe vegetables were colorful. I served this on crunchy chow mein noodles. I used an electric skillet to prepare this recipe. Thank you for your RSC entry!

Quite tasty. Everyone had seconds. But I think the cooking time is excessively long. I shorted it 15-20 minutes because the carrots and onions were done and we didn't want them mushy. And even so, the boneless loin chops I had were starting to dry out. IMO, it would be a better balance of flavors with less vinegar and more soy sauce.

I found the pork dry. It would have been nice to brine it first. Recipe didn`t state how much oil so I browned in 1 tablespoon oil)and remove and keep the pork under foil while making the veggies and sauce. The sauce was very watery and I did end up adding 1 heaping tablespoon of cornstarch to the liquid to thicken slightly and to glaze. I did use 1 pound pork / 4 boneless chops. I did enjoy the tang but found it to sweet even though I added less brown sugar. I think cubes of pork would have been nice in this and served over rice. Thanks.