AngelaTN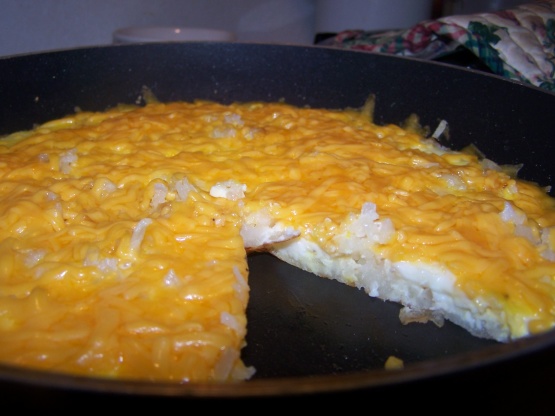 I got this from a book of favourite egg recipes. Chopped cooked bacon or diced ham can be added along with the peppers and onion. You can also substitute Monterey jack cheese for the cheddar.

Halved the ingredients, was plenty for the two of us, tossed in some sausage, otherwise made as directed. Good basic recipe, allows for customizing, which I'll be doing the next time.
In a medium skillet heat oil over medium heat.
Add hash browns and cook for a few minutes until heated through, stirring occasionally.
Stir in green or red pepper and onions.
Cover and cook over medium heat for 6 to 7 minutes, stirring occasionally.
In a medium bowl, whisk together eggs, milk, salt and pepper.
Pour mixture evenly over hash browns; using turner, poke hash browns in several places to help mixture seep through to skillet.
Cover and cook over medium-low heat for 6 to 7 minutes or until eggs are just about set.
Sprinkle cheese over top.
Cover and cook for 2 to 3 minutes or until cheese is melted.
Loosen edges and cut into wedges.