diner524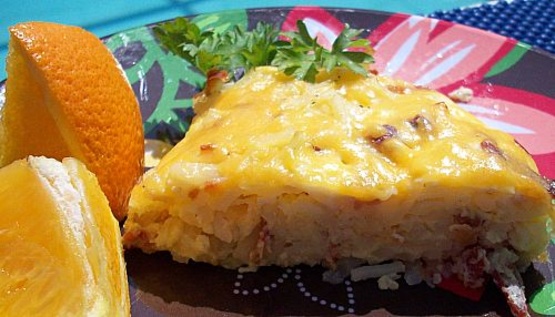 Craving bacon, eggs, and hashbrowns but don't have the energy to make it all? Let your oven do the work for you. I preferred a little more cheese, but I'll leave that up to you. Recipe is from Taste of Home.

I have used this recipe for a few years now and love it. I normally make it for breakfast for our Sunday school class and everyone enjoys. I've added a few other spices to mine to put a spin on it. I add fresh nutmeg, pepper and garlic powder.
In a large bowl, combine hash browns, bacon, 1/2 cup cheese, and salt.
Spoon into a greased 13x9" baking dish.
In a separate bowl, beat eggs and milk until smooth and pour over hash brown mixture.
Sprinkle with paprika.
Bake, uncovered, at 350 for 45 to 50 minutes or until golden.
Top with the remaining cheese.