El Mago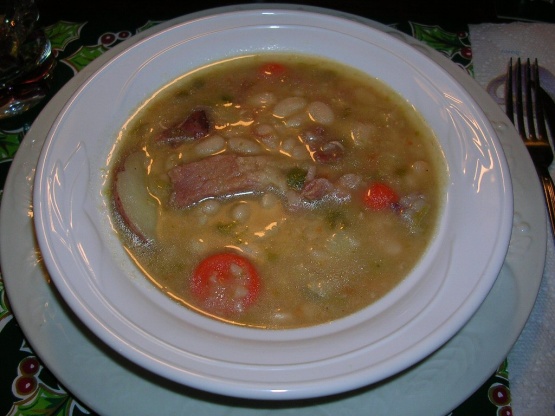 If you like beans you will like this.

Amazing! That is how I would describe the Harvest Bean Chowder. I am a big bean fan and this recipe has found a new home.
I had a ham bone from a recipe I had made and wanted to use it somehow so I froze it along with some left over ham. I just made a couple of changes to suit my needs. I don't like celery so I left it out and increased the other veggies, and I used red potatoes because that is what I had, but the recipe didn't really specify which one to use.
I soaked the beans over night, and slow cooked them that afternoon. I added the ham bone I froze along the extra ham that was left over to from a nutritious meal. This will definitely make an encore appearance! Thanks Dancer.
Soak beans according to directions, using either method.
Drain beans and measure liquid.
Add water to make 1 1/2 quarts.
Place beans, liquid, ham bone, onion and garlic in large kettle.
Simmer 1 1/2 to 2 hours, or until tender.
Add potato, carrots, celery and green pepper.
Simmer 30 minutes longer.
Remove ham bone.
Cut up meat and return to soup.
Thicken with flour blended with a little cold water.
Add milk and heat gently.
Season to taste with salt and pepper.