Prep 15 mins
Cook 15 mins
The secret to char grilling lamb is to cook it over a high heat, searing in all the juices. Then just let it sit for a few minutes to relax, so that the meat becomes tender and wonderfully juicy. Its really not difficult and i guarantee that these delicious lamb pittas are well worth the effort.
Directions
Mix together the harissa paste, lemon juice, chopped mint and sea salt. Add the lamb fillets, turning to coat in the mixture, and set aside to marinate for 10 minutes or so.
Heat a griddle pan for 2-3 minutes until hot. Add the lamb fillets and cook for 8 -12 minutes until well browned but still a little pink in the centre; remove from the heat and allow to rest for 5 minutes to tenderize the meat. Warm the pittas in the same pan.
Cut the pittas in half and fill each pocket with the rocket.
Diagonally slice the lamb into 1 cm thick slices and pack into the pittas. Top with a dallop of hummus and serve warm with lemon wedges for squeezing over.
Most Helpful
Fantastic flavors! I was craving for a little more mint and drizzled some mint sauce on top. To die for!
I gave you 5 stars before trying this recipe, and actually now you have 6 stars! LOL! I passed the the recipe on to my sister because they buy entire lambs from a butcher. A few nights ago she made this, and she and her husband raved about it. She's a better cook than I am, so you can be sure your recipe is absolutely lovely. I thought I'd pass this message on (she's not a Zaar member) -- it would be sinful not to. I don't think she changed anything. Her husband was especially appreciative!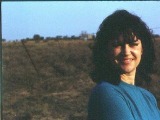 This was beautiful, I love lamb fillets - they're such a treat as they're so expensive! This wasn't as spicy as I'd anticipated but had a beautiful warm glow. I marinated the meat all day, and your cooking instructions were right on! We had this with homemade hummus (a lot more than 2 tablespoons LOL) and couscous - thanks so much for this lovely recipe!