gailanng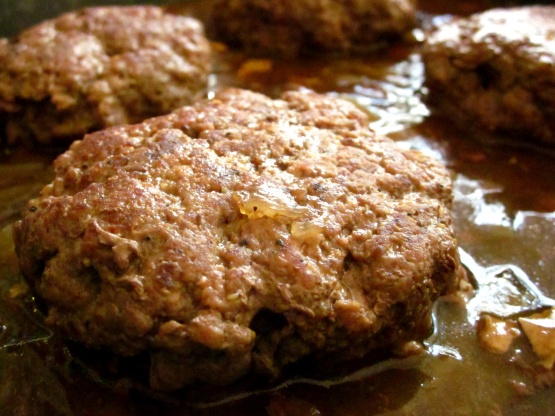 Very easy to make and simmered until it melts in your mouth. The gravy is delicious and goes well with potatoes, noodles or rice. This could also be eaten on a toasted bun, topped with the onions and some of the thickened sauce.

Outstanding recipe!! I doubled the gravy using beef broth, browning sauce and 2 beef cubes. I served it with mashed potatoes and corn on the cob. We loved the way the meat tasted. I'm putting this keeper in my tried and true file and I know I'll be making it often. Thanks so much for sharing.
Mix hamburger, 1/4 cup flour, garlic powder, salt and pepper. Form into 4 square patties and brown. Add onions to pan and Saute. Remove patties and onions from pan. Mix 1/4 cup flour and water in pan. Add beef cubes stir and heat until thickened. Add salt, pepper and a little browning sauce if desired. Add patties and onions back to pan and simmer for 30-45 minutes.
Serve with potatoes, noodles, or rice. If sauce is to thick or boils down add a little more water as it simmers.