MA HIKER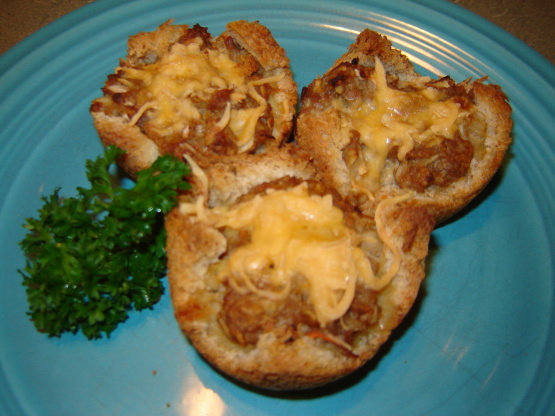 A weight watchers recipe - 3 nests equals 7 points - may be lower using ground turkey (which I use!). These are a real kid pleaser and make nice leftovers for lunch the next day.

I want to try these again before reviewing. I used cheap ground turkey (not low fat) and it had too strong a flavor. Everything else turned out great though so I want to try it again.
Preheat oven to 350 degrees F.
Spray 24 muffin cups with nonstick cooking spray.
Place one slice of bread in each muffin cup, pressing firmly to mold to the shape of the cup (my kids like me to trim the crusts).
In a medium bowl, combine the turkey, onion, oatmeal, egg substitute, garlic, ground pepper & bbq sauce. I use my (clean) hands to incorporate it really well.
Spoon evenly into the bread-lined muffin cups.
Top each with an even sprinkling of the cheese.
Bake until the meat is cooked through and browned, about 25 minutes.