vrvrvr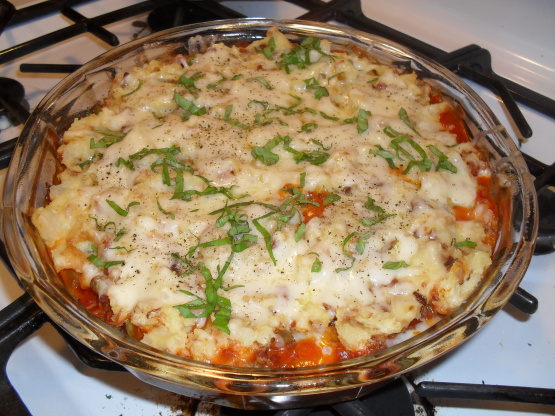 This is a family favorite for a quick supper. great use for left over mashed potatoes.

Top Review by vrvrvr
Fantastic, hearty fare, especially on a cold night! We loved this. I cooked the ground beef with minced red & green onion. I also subbed a 14 oz. can of tomato sauce plus 1 T. worcestershire sauce for the tomato soup and water (I dislike how sweet canned tomato soup is). I also ran the frozen green beans under cold water to thaw them, and cut them into 2" pieces. Absolutely delicious and a recipe I would happily make again!
Preheat oven to 350.
Brown ground beef in skillet, drain.
Stir in thawed green beans, soup, water and seasonings: Pour into 1 1/2 quart casserole dish.
(spray with pam first, makes easier clean up) Combine 1/2 of french fried onions with potatoes and spoon atop meat mixture.
Bake uncovered for 25 min or until heated through.
Top with cheese and remaining onions and bake an additional 5 min until cheese melts.