Bev I Am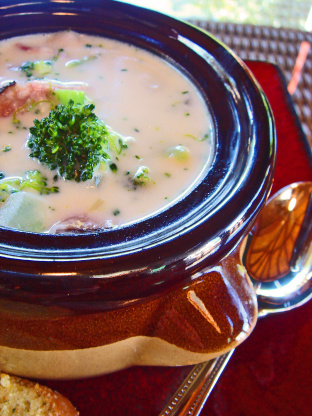 This is the yummiest soup you will ever make. It's a wonderful way to warm up on a cold day and a great way to use up left over ham. If I don't have leftovers, I get a couple of 1/4 inch slices from the deli and cube it. You won't be able to have just one bowl. Cooking time will vary depending if you use fresh or frozen broccoli. Enjoy!

Sorrie Lue, just finished making your wonderful soup. It's so tasty and easy to make. Only thing I did differently was to zap the fresh broccoli for a few minutes before putting it in the soup. I assumed that it was whipping cream that you were referring to. Yum!
Melt butter in a sauce pan.
Whisk in flour until smooth.
Gradually add broth and bring to a boil.
Reduce heat and stir for a couple of minutes until thickened.
Add broccoli and onion.
Cook and stir until broccoli is tender tender-crisp.
Add ham and cream. Heat through.
Stir in cheese and cook until melted.