Ham, Cheese and Onion Scones
Ceezie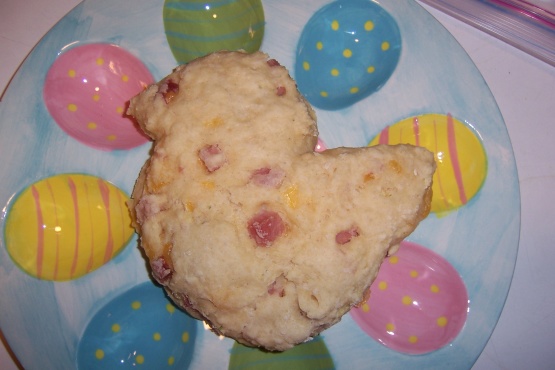 These are great light scones. This are great with dinner, as a snack or for breakfast on the run. These are so light they are pretty close to a biscuit.

Delicious! I brought these to a women's brunch and got several requests for the recipe.
I made them in the food processor. Put in dry ingredients. Add small pieces of FROZEN butter and pulse until crumbly. Microwave onions about 30-1 min until soft. Add onion,s chopped ham, sharp cheddar and about 1/4 c fresh chives.
Dough was quite soft and needed quite a bit of flour for shaping. I divided the dough into two balls, patted down and then cut into wedges. Next time, I'll make 3 balls so the scones will be a bit smaller. I'd also add a little more salt.
Place flour, baking powder, garlic salt in mixing bowl and stir together. Grate cold butter into mixture and stir till coarse meal.
In a seperate bowl whisk together buttermilk and egg. Add this to the dry mixture as well as the cheese, onion and ham.Stir just till combined.
Place this on a floured board and knead a few times. Pat into a 1" thick shape and cut with a large cookie cutter.
Place on greased baking sheet or sheet lined with parchment paper. Bake at 350 degrees for 20-25 minutes.