GaylaJ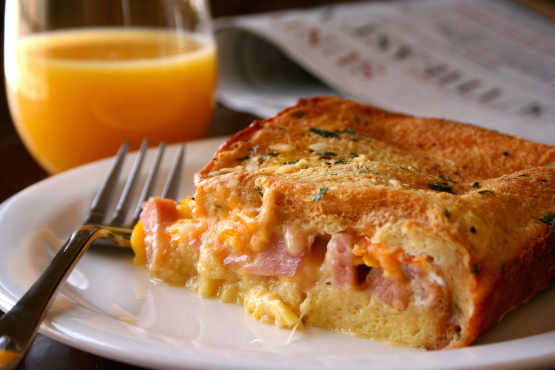 This breakfast is energy filled for the busy day ahead.

Great recipe, Tish. I followed recipe for the most part adding chopped scallion; omitting the lemon pepper & replacing it with italian seasoning. I'm always looking to try something new for breakfast that doesn't require a lot of work when I'm half asleep, I will definitely make this again. So many applications of this recipe it's ridiculous... use whatever you have on hand and it'll be tasty.
Spray 8 X 8 baking dish with cooking spray.
Place 4 slices of bread in prepared baking dish.
Sprinkle ham, mushrooms, and chees over top.
Cover with 4 slices of bread.
In a medium bowl, combine eggs and skim milk.
Add onion flakes, parsley flakes, and lemon pepper.
Mix well to combine.
Evenly pour egg mixture over bread.
Cover and refrigerate for at least 1 hour or overnight.
Uncover and bake at 350 F for 1 hour.
Place baking dish on a wire rack and let set for 5 minutes.
Cut into 4 servings.