Hackney's Inside-Out Burger
CoCaShe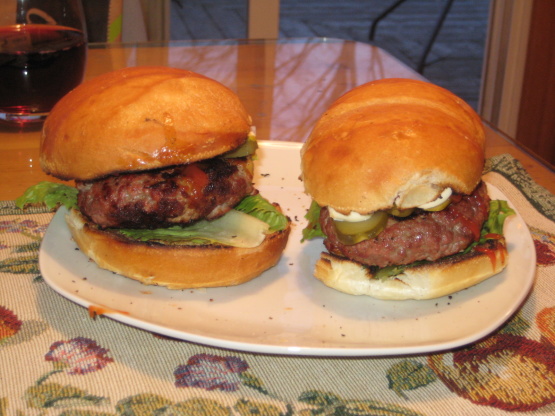 All I gotta say is yum! Found this on the food network...

These are delicious! Such a nice alternative to an ordinary burger. Thanks for sharing!
Special tools: 1 round mold (lid to a peanut butter jar or other round container recommended) and 1 sheet plastic wrap
Divide ground beef into approximately 2 equal portions. Set aside.
Line round mold with plastic wrap. Pat half of the ground beef into the round mold.
Layer with cheese and bacon, being careful not to go too close to the edges.
Cover with other half of the ground beef. Press down edges of ground beef together to seal.
Remove pattie from mold and pan fry over medium heat in 2 tablespoons of oil.
Serve plain or on a bun.