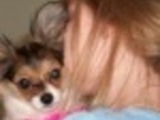 We use this as a dip with tortilla chips or as a salsa on top of just about everything we eat. Especially good on top of grilled chicken served on a warm tortilla.
Directions
NOTE: Remove seeds from peppers and the sauce will be a little hot. Leave seed and it should be pretty firey.
Finely chop and combine all fresh ingredients except garlic. Press garlic into mixture. Add salt, pepper, oregano and tomato sauce. Mix well. This can be pulsed in the food processor if you want a smoother texture.
Most Helpful
I stumbled across this gym yesterday and decided to make it for a company BBQ. The flavor and spice were amazing and paired well with the Carne Asada & Chicken Tacos we had. Absolutely a new favorite.
Salsa turned out great. Liked the heat but could still taste the other fresh ingredients. The only modification I made was to add the juice from 1 lime. Will definitely make again. Thanks.
I tried this recipe. It looked and was simple. I adjust the ingredients (as I do with most recipes). It was absolutely delicious. I left just a little habanero seeds and wow, it was fiery. But I like it hot. I love the fact that I'm making fresh salsa, with no preservative. I wash, chop, and season everything myself. Getting ready to make some more right now.