Gyro Loaf With Tsatziki Sauce
eck29602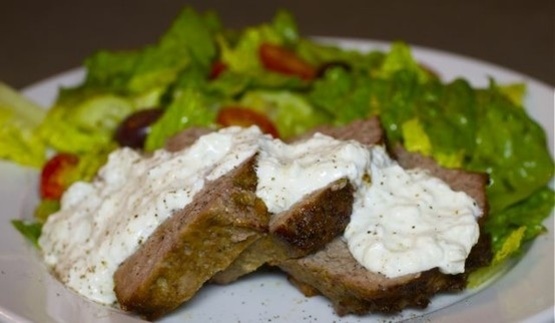 I confess, my husband is a gyro junkie. I had never had the ethereal pleasure of a gyro until he introduced me to the wickedly intoxicating Greek concoction a few years ago. The trouble you ask? We were low-carbers for about two years running and it was not cost-effective to make special trips out for a couple of paper-thin slices of meat and some sauce. I developed this recipe out of pure desperation by combining several different recipes (found online) and then adding some of my own ideas and spice.

Outstanding! The meat had a perfect gyro flavor. I followed the ingredient list from this recipe but used Alton Brown's methods which included throwing everything into the food processor and grinding until the meat formed a fine paste. Then I pressed the meat into a loaf pan and baked in a water bath at 325F until the meat reached an internal temp of 165F (about 90 minutes). I believe this method was why the meat was easy to slice thinly. I didn't try your tzatsiki so I can't comment on that. I'll use this recipe again though! Thanks for posting!
Mix loaf ingredients together and shape into a freeform loaf in a baking pan.
Bake at 375°F for about 1 hour 15 minutes.
Once loaf has cooled to room temperature or has chilled in the refrigerator, slice it as thin as possible (maximum of 1/4 inch).
Serve it warm or at room temperature.
Can be served in pitas, flatbreads or tortillas with lettuce, tomato, black olives, feta cheese and Tsatziki Sauce or as a main course with a Greek salad, pasta salad or potato salad.