Guy Fieri's BBQ Pork Fried Rice
Prep 1 hr 35 mins
Cook 20 mins

The only other person I know of to use this technique to make fried rice is the food writer M.F.K. Fisher. It may seem as if the eggs would stick to the rice and vegetables, but they don't. You can make the fried rice without the pork. Although the recipe specifies short-grain rice, I prefer to make this with long-grain. Prep time includes marinating time.
Directions
Combine soy sauce, oyster sauce, ginger, garlic, and sesame oil in a medium bowl.
Add pork.
Cover and marinate for 1 hour in the refrigerator.
Heat grill to medium-high, and grill pork on both sides until done.
Heat remaining marinade to 165 degrees F and use to baste meat as it cooks.
When meat is almost cooked through, glaze both sides with sweet and sour sauce and let finish cooking while sauce caramelizes on meat.
Remove from grill and allow to stand for 10 minutes.
While pork is standing, heat oil in wok or large skillet on high heat until oil almost begins to smoke.
Add ginger and all vegetables except garlic.
Cook for 3 minutes, or until vegetables are cooked, then add garlic.
Before garlic browns, add rice and mix rapidly so rice does not stick to sides of wok or pan.
Pour beaten eggs over rice and vegetables.
Toss again rapidly until all egg is cooked.
Add the soy sauce, oyster sauce, and sesame oil and mix thoroughly.
Cut pork in 1/2" pieces and stir inches.
Garnish with green onions and sesame seeds.
Reviews
Most Helpful
Fabulous!! I made this 2 days ahead of time because I knew I would have a lot going on for dinner tonight and I wanted this all ready to heat up. It worked beautifully. This is absolutely delicious fried rice. Well worth the extra steps. Made for Culinary Quest - China - International Agents of Quest. Thank you!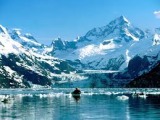 The prep for this recipe was very time consuming, but the end result was great! Made as written except diced the pork before marinating and then sauteed it and poured the sweet and sour sauce over the top when it was done (ran out of propane for the grill). Was very flavorful and I enjoyed everything though DH said it was too 'colorful'; meaning too many veggies! Made for Almost Five Tag.
Yummy! I've never made fried rice before with a sweet and sour sauce - but it added a nice flavor. I made this recipe as directed, other than I halved it. Thanks Chocolatl for a nice new find. Made by an Unruly Under the Influence for ZWT6.