Linky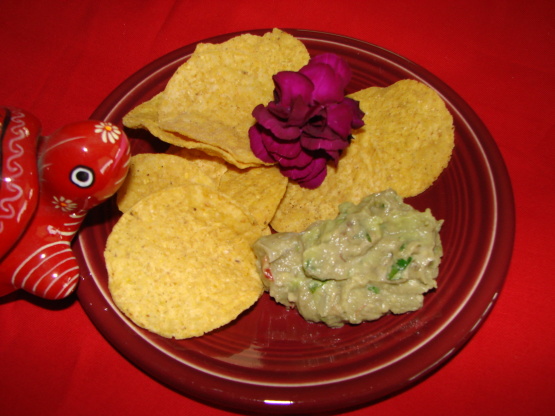 This is my own recipe and nothing is really exact but I'll do my best. Enjoy!

Top Review by Linky
This was very good once I added some garlic. Without it, the flavor was way too bland. I had a red pepper on hand that I used instead of the green; red gave it a little color interest. I don't know if the sour cream was necessary, I'll probably skip it next time. Made this for My-3-Chefs...
Cut avacados lengthwise and remove pit. Take halved avacado and squeeze skin side up into a bowl. Most of the avacado should come out. Use a spoon to get remainder.
Slice lime in half and squeeze juice from both halves over avacados.
Add chopped cilantro, diced onion, diced green pepper, sour cream, salt and pepper.
Using a fork, mash and combine ingredients.
Place in air tight container and refrigerate for at least 1 hour. The longer it chills the better it tastes.
Substitutions: Dried chopped onion for the diced onion. Also, you could omit onion and green pepper and just add sliced green onions.