racrgal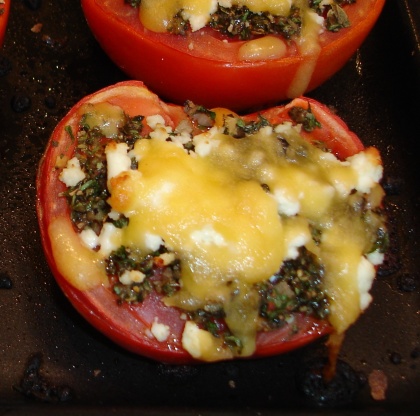 I make this at least once a week. Tomatoes are even better for you when they are cooked. It enhances their nutrition. Since my husband's heart attack last year, I serve him lots of tomatoes. I have done these on the grill and in the toaster oven (when it's too cold outside to cook) and I have made it so many different ways, by changing the type of cheese I use to actually hollowing out the tomatoes and stuffing them with the ingredients. When I make them, I usually sprinkle a little home made chili powder on his because he likes his spicier, I like mine just plain. (I didn't add the chili powder in the recipe as it's a home made blend of whatever peppers were growing in our garden last year that I dehydrated and ground up) Sometimes, we have had these with no other cheese except for the feta and it is still very good. Just adjust the recipe to your likings and see what you can come up with!
2

large firm tomatoes (I just use the largest reddest ones I can find)

14.79

ml fresh basil, chopped (1 teaspoon dried)

4.92

ml fresh oregano, chopped (1/2 Teaspoon dried)

2.46

ml fresh ground black pepper

14.79

ml minced fresh garlic (1 teaspoon granulated garlic powder)

4.92

ml fresh parsley, chopped (1 teaspoon dried)

59.14

ml reduced-fat feta cheese, crumbled

59.14-118.29

ml grated cheese (mozzarella or cheddar are what I've used or you can try swiss but then omit the feta)
Wash the tomatoes. Cut them in half.
Mix together the basil, oregano, pepper, parsley. (and garlic if you are using the dried stuff).
On the cut surface of the tomatoes, sprinkle the herb mixture(add the garlic now if using fresh).
Sprinkle the feta cheese on top and top with the grated cheese if using.
Place on a preheated to low temperature grill or in toaster oven.
Grill or cook for about 10 - 15 minutes. Using tongs, carefully remove the tomatoes onto a plate. (They will be soft, so be gentle so as not to squish them!).
An alternative cooking method is to loosely cover them with foil to make removal from the grill a bit easier. I wrap the foil up around the tomato so it has a "handle" at the top.