Grilled Sweet Potato Salad
VLizzle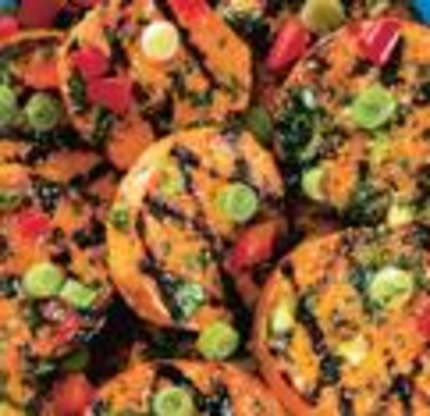 Adapted from Vegetarian Times 2005 Grilled sweet potatoes require close attention – but the results are worth it. Slice them too thick, and they won't cook through; slice them too thin, and they will char quickly. Slice carefully and keep an eye on the grill.

This is a great way to serve sweet potatoes. We had them last night with "Thai Grilled Chicken Thighs". Fabulous! Great flavors and that simple vinaigrette - super! Had no cilantro left (it all went into the Thai grilled chicken marinade), so I used basil instead. Lovely! This will be a keeper!
Prepare medium-low charcoal grill or preheat a gas grill.
For the vinaigrette: combine lime zest, juice, and vinegar in a large bowl.
Whisk in oil until completely blended.
Stir in cilantro, garlic and salt.
To make sweet potatoes: add potato slices to vinaigrette, and let marinate for 5 minutes.
Using a slotted spoon, transfer the potato slices to the grill.
Turn occasionally, basting with remaining vinaigrette and cook until tender when pierced with a fork – about 10-15 minutes.
Return grilled potatoes to vinaigrette.
Add red pepper, scallions, juice, salt and pepper; toss gently and serve.