teresas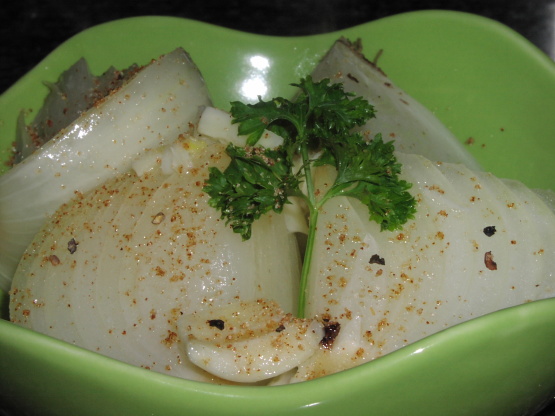 I made these last night to go with our grilled steak and just loved them. So easy and tasty and the best part, no pots or pans to clean. I found this recipe in TOH magazine.

What a wonderful way to make onions. This is similar to my pan version, but so much easier and less messy! They flavor was great! The prep & clean up were very simple. I made these to go along with Recipe #425677 (not "my" actual recipe... just what it was titled) and also had a side of left-over Recipe #249021. Thank you for posting this recipe. We will use it often this summer! (Made for "Name That Ingredient" tag)
Place four onion wedges and a garlic clove on a double thickness of heavy-duty foil (about 12 inches square). Dot with 1 tablespoons butter and sprinkle with 1/4 teaspoons of seasoned salt. Repeat for other 3 onions.
Fold foil around onion mixture and seal tightly. Grill, covered, over medium heat for 30-35 minutes or until onions are tender. Open foil carefully to allow steam to escape.