Grilled Pineapple Delight
Kathy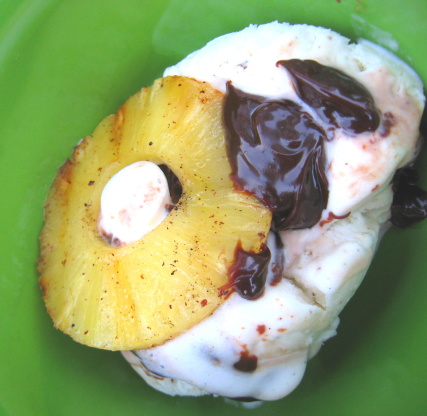 Lately I have been fasinated with grilled pineapple. This is something I created after not finding what I wanted with other recipes. Perfect for a summer barbecue or picnic. Hope you enjoy it!

This was really good. I also tried it using Splenda instead of sugar and couldn't believe how good it was. Thanks for a great recipe.
Preheat the grill to high.
Oil the grate.
Cut the rind off the pineapple, leaving the green leaves intact.
Cut the pineapple in half lengthwise through the leaves as well as the fruit to obtain 8 slender wedges of pineapple with leaves intact.
Trim the core off each pineapple wedge.
Have the melted butter in one shallow bowl; mix the sugar,cinnamon and cloves in another bowl.
Dip each wedge of pineapple first in melted butter, then in the sugar mixture, shaking off the excess.
Grill the pineapple wedges until browned and sizzling, 5 to 8 minutes per side.
Transfer the pineapple wedges to plates or a platter.
Serve with ice cream.