Grilled Marinated Swordfish Steaks With Avocado Butter
Cook4_6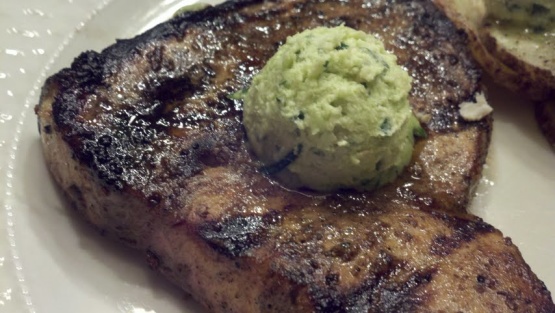 Love Swordfish steaks, especially when I can get them fresh. They are nice and firm, and don't have a "fishy" taste! Also love avocado....this is a great marriage of two great tastes! Prep time doesn't include marinating time!
Another great recipe for one of my favorite fish. The marinade is excellent and the avocado butter outstanding. No reason why this combo would not work with salmon and other firm fish steaks. Be careful not to overcook. Nine minutes on both sides would require a steak of 1 inch or more in thickness. The sword fish I tried this on was 3/4 inch thick (outdoor grill) and for my taste four to five minutes on each side was sufficient.
Swordfish:.
Place steaks in two 13 x 9 x 2 inch backing dishes. Combine vegetable oil and next 4 ingredients in a small bowl; stir well. Pour marinade mixture over steaks; cover and marinate in the refrigerator for 2 hours, turning occasionally.
Remove steaks from the marinade, reserving the marinade. Place marinade in a small saucepan. Bring to a boil; reduce heat, and simmer 5 minutes. Set aside.
Grill steaks over hot coals for 9 minutes on each side or until fish flakes easily when tested with a fork, basting frequently with the reserved marinade. Serve with Avocado Butter. Garnish with parsley sprigs.
Avocado Butter:.
Combine butter and avocado in a small mixing bowl; beat at medium speed of an electric mixer until smooth. Add the lime juice, parsley, garlic, and salt; stir well. Cover and chill until firm. If desired, shape butter into small bowls before serving.