Grilled Greek Chicken Breasts
Chef floWer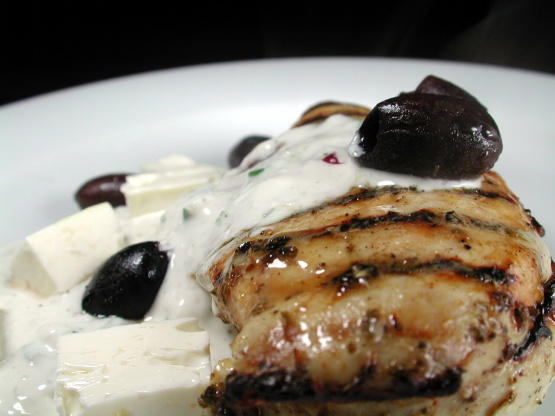 Wonderful blend of flavors and super simple! Makes for a nice twist on boring chicken. Can also cook in skillet or paninin press.

Mmmm. All the flavor of great lemony greek chicken but healthier! Threw the lemon rinds right in the marinade. Doubled recipe. Grilled and served with Tzatziki sauce- wonderful. Will make again, perhaps baking in oven next time. Thanks.
Combine lemon juice, oregano, garlic salt in shallow dish. Whisk to combine. While wisking stir in olive oil.
Add chicken turning once. Marinate 30-60 minutes turning half-way.
Grill to your liking; discard marinade.
Top chicken with feta cheese, tzatziki sauce (gyro sauce), and olives.