Grilled Chili-Lime Chicken
Boomette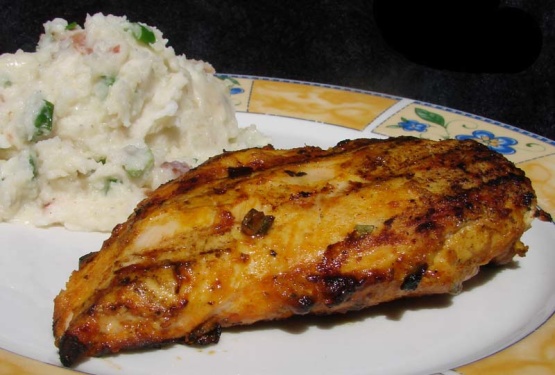 This is great as a main dish, but if you have left-overs or make a double batch, the chicken can be cut into strips and frozen, then used on salads or in wraps for lunch. I have two recipes I'm posting that use these chicken strips: Chili-Lime Chicken and Avocado Wraps, Chili-Lime Chicken Mexi-Ranch Salad. I also use the leftovers for impromptu fajitas. (In our house, these are "Make it your own self" meals.) I've never tried this marinade on flank steak, but I bet all of the above would be great with it as well. If you try it before I do, please let me know how it turns out!

I made fajitas with this chicken and they were fabulous. I followed the recipe exactly and will certainly use this recipe again. The flavor of the chicken was nice. Thanks for posting.
Combine all ingredients except chicken in a large zipper bag. Squish to combine. Add chicken, turn to coat well. Refrigerate and marinate for about 3 hours or so.
Heat grill to medium high. Remove chicken and discard remaining marinade. Grill chicken 4-5 minutes on each side, or until juices run clear. This works well on an indoor or outdoor grill, but I wouldn't recommend baking it. If you absolutely can't grill it, you might get away with searing it in a skillet.
Leftovers can be sliced and frozen to be used later in other recipes. (See above).