diabella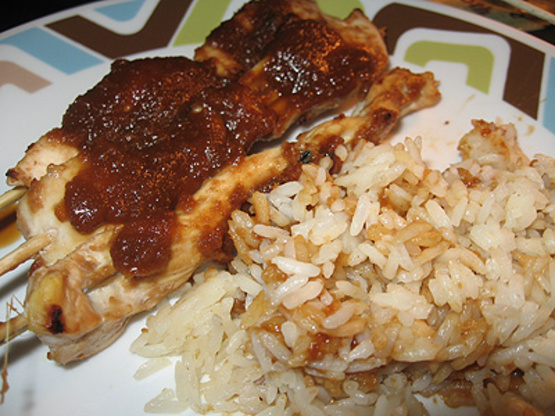 Toss aside your peanut butter and jelly sandwiches, little kids, and see how the big kids like their peanut butter! :)

Thanks for a simple and effective recipe Sue, which I used for pork fillet rather than chicken. I took about a quater of the sauce, rubbed it into the thinly sliced fillets, then left them stand for about 1 hour before I cooked them. They cooked in about 4 minutes, so no need to baste them. I also used your peanut sauce over gado gado that I made on the night.
In saucepan cook peanut butter, water, soy sauce, garlic, lemon juice, brown sugar, ginger, and red pepper over medium heat for 1 minute.
Cool sauce, and remove and discard garlic from sauce.
Divide sauce into two parts.
Cut chicken into 1" strips, threading onto metal skewers.
If bamboo skewers are used, soak for 20-30 minutes before using.
Oil grid on grill with non-stick spray before heating.
Grill chicken, covered, over medium-hot heat, 6-8 minutes, turning once.
Baste with half sauce during cooking and serve with remaining sauce garnished with sliced scallions.